Interview with Tewolde Gebremariam Ethiopian Airlines CEO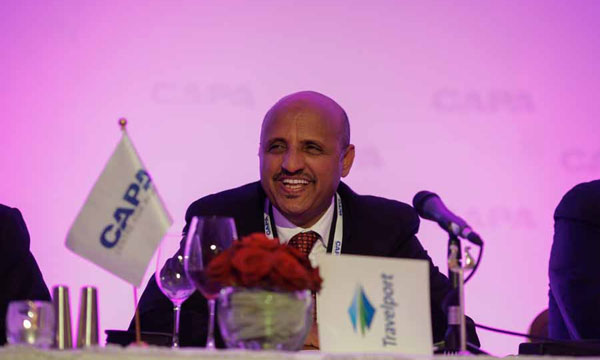 What are the three main concerns your airline, Ethiopian Airlines, will face within the next 24 months? 
Gebremariam: High and volatile oil price; It is higher in Africa by about 30% from the rest of the world.
Uneven competition from highly capitalized mega carriers
Lack of unified common Aviation Policy in Africa like that of the EU. This has resulted in African skies are more open to non-African carriers than to home carriers.
What are the two or three things your airline hopes will dazzle the customers/passengers?
Gebremariam: Today, Ethiopian is the fastest growing African Airline and this fast expansion in fleet and new destinations with improved connectivity in our Addis Ababa and Lome hubs along with the largest network of Star Alliance is enabling us to take our customers to any part of the world. With direct services to Seoul, Korea, to Sao Paulo and to Rio in Brazil; and Manila and Singapore also joining our network very soon, our global network is growing at an amazing speed. In most of our network today, we offer the fastest routes to customers with least total travel times.
Our 787 Dreamliners are offering totally new travel experience to the customer and these airplanes are opening wholly new era in air travel. We are the first outside Japan to own and operate the most technologically advanced commercial aircraft with:-
Spacious cabin which provides a spacious environment for passengers.
Wider seats
The biggest windows in the sky which gives passengers a view to the horizon from any seat on the airplane, reinforcing their connection to the flying experience as if they were flying on a widow seat
Dimmable windows which give passengers the ability to dim the windows and still see the passing terrain
The largest overhead bins in the industry which allow every passenger to place a bag in the bin above
The quietest flight experience. The 787 is 60% quitter than other airplanes.
The 787 is the most environment friendly and most green airplane in the world today. It has 20% less carbon emission.
Improved cabin environment which makes passengers fell like they are at 6,000 feet while flying at 35,000 feet above sea level.
Our fleet modernization program is enabling us to operate the youngest fleet in the continent. Our average fleet age is only seven years old and customers prefer to fly with new airplanes.
Last week, Sky Trax has given us one of the most prestigious awards in the Paris Air Show; that is the best airline staff service in Africa.
While this was a very strong vote of confidence from our customers and Sky Trax, it also testifies that our service strategy excelling in service delivery is the right one and it is working well. We want to be the friendliest African airline with superior customer service delivery and the best Ethiopian hospitality.
What are the focus markets for Ethiopian Airlines? 
Gebremariam: Our home market is always Africa, which is our special area of focus. 67 years in reliable service, we know Africa better than anyone. With the strategic location advantage of our Addis Ababa hub, we want to make a special focus in the emerging markets of Asia, Africa and South America. Off course, the matured and developed markets of Europe and North America are also important target markets for us.
What is the percentage of connecting passengers flying with Ethiopian Airlines? 
Gebremariam: 65% is transit passengers and 35% Arrival and departure from Ethiopia
What is the percentage of African passengers flying with Ethiopian Airlines? 
Gebremariam: As an African carrier with the largest passenger and cargo network in Africa, Ethiopian has the most convenient connectivity options for passengers travelling between Africa and the rest of the world. As such around 70% of our passengers are Africans
What is the percentage of business passengers on your flights?
Gebremariam: Over 70% of our total passengers are people traveling for business with different types of businesses.
How much affected you the grounding of 787?
Gebremariam: The grounding of the 787 has affected us seriously in both operational, commercial and financial terms.
What percentage of your revenues account cargo operations?
Gebremariam: Close to 18% of our total revenue comes from cargo operations; Ethiopian Airlines is the largest cargo operator in Africa with 6 dedicated freighter aircraft in addition to significant belly hold capacity.
Ethiopian is currently operates two Boeing 777-200 LR freighters, the first to be operated in Africa, two MD-11, and two Boeing 757 freighters out of two hubs – our main hub Addis Ababa and Liege, Brussels;
Today, the airline operates to 25 cargo destinations in Africa, Middle East, Europe and Asia;
With its a vast cargo network – 15 in Africa, 7 in Middle East and Asia and 2 in Europe;
Ethiopian operates in major trade lanes between Africa and Europe, Middle-east and Asia providing a convenient and reliable cargo service to and from the continent;
Boosted by the growth of perishable exports from Ethiopia, the airline is now expanding its cargo network and fleet;
Having already phased in 2 B777-200LR Freighters, Ethiopian plans to open cargo services to Moscow in this fiscal year;
The B777F is the most technological advanced aircraft with ability to connect any two points in the world carrying 103 tons of cargo with reduced fuel consumption and less emission;
This is especially good news for exporters of perishable goods such as flowers, vegetables, fruits and meat;
Ethiopian cargo is at the final stage to be one of the seven business units of Ethiopian aviation group. By 2025, Ethiopian plans to uplift 820,000 tons of cargo using 15 jet aircraft;
What are Ethiopian Airlines key points of success?
Gebremariam: Uniquely dedicated and highly committed work force led by experienced and seasoned executive management and board of Directors.
Efficient network of connectivity based in a strategically advantageous located hub which enables us to connect Africa with the rest of the world better than any one else.
Sound and sustainable Corporate Governance
Our relentless focus on the four pillars of our vision 2025. That is :-long term fleet plan,
Self-sufficiency in aviation infrastructure like MRO, training facilities, cargo facilities etc…
Long term focus in HRD
Investment in systems like ICT, best practice processes etc..
One of the best value for money to the customer (combination of cost, quality and time)
How important is to be part of the alliance?
Gebremariam: As a member of Star Alliance, Ethiopian provides consistent worldwide recognition and status; Helps in cost saving through joint purchasing of goods and services with member airlines; convenient, safe and secure global access to passengers;
hassle-free service experience for our customers;
Through our membership in Star Alliance passengers on Ethiopian now have access to 1,356 airports and 990 lounges in 193 countries;
However recently you signed a code-share with Oman Air not member of Star. Do you plan to sign similar deals with other non-alliance carriers?
Gebremariam: Ethiopian is always looking for partnerships to enhance its services; The code share with Oman Air is geared towards that;
We will continue to enter into similar agreements with non-Star Alliance; members if it helps us provide enhanced services to our customers; and if it doesn't conflict our Star Alliance strategy.
Is there room for LCCs in this region? If yes to you fear that will take part of your market?
Gebremariam: It depends. Africa is rising and developing fast in all sectors including air transport; Thus, there will be enough market for everyone; However, that model has a lot of challenges such as infrastructure and traffic right restrictions;
In Europe and the North America, the LCC's operate from secondary and less costly and less congested airports which is huge cost advantage but similar opportunity may not be available in Africa.
There are also high fuel, landing and custom taxes that are barriers for the cost advantage of LCCs;
What next for Africa aviation?
Gebremariam: Africa is now the second fastest growing region in the world. With one billion people and right demographic profile, largest concentration of globally needed natural resources and the emergence of sizable middle class and consumer society, and increased democratization and good governance and prevalence of peace, it will be a strong magnet to FDI from all over the world and particularly the emerging markets like China. Hence; today we are saying it is time for Africa. The 21 century is and African century. It will be the next and perhaps the last frontier in Globalization.
As a result, air transport is expected to grow at a rate that is above historical trends and above global average all through 2030;
Ethiopian is already connecting 45 African cities with 30 cities in the rest of the world and it is strategically positioning itself to take advantage of this huge growth and economic development in the continent and in turn it will also support the development by providing irreplaceable and critically essential air connectivity and mobility.
We have a multi-hubbing strategy in Africa.
We already have a second hub in Lome, Togo through a partnership with ASKY airline in which Ethiopian holds 40% stake and manages it as well;
We are looking at adding two more hubs, one in Southern and the other in Central Africa;
Do you have any additional thoughts you'd like to share with us?
Gebremariam: Africa is changing in a fundamental way. Some still have an outdated view of our great continent which now open for business, trade, investment and tourism;
Africa is today the 2nd fastest growing region in the world after Asia. It has a young and vibrant population of 1 billion; 60% of the world's arable land; 12% of its oil, 42% of its gold, etc…
There are a lot of opportunities in Africa. I call upon businessmen and tourists to look at Africa with a new and updated lens;
Come and discover Africa and Ethiopia in particular, you will be amazed by its immense opportunities and abundant riches.
If board rooms of multinational and global companies are not yet discussing on their "Africa Strategy"; they will regret soon, as they will miss the opportunity window.